What A Man Wants from A Woman: Men and women have distinct thought processes, behaviors, and relationship desires. While women tend to express themselves openly, men often reveal less. This can make it challenging for women to impress their partners, as they may not know their preferences. However, there's no need to worry. We've got you covered.
In this article, we've compiled a list of 21 things that men want in a relationship and provided suggestions on how to make them a reality. So, why wait? Let's dive in. Many men struggle with commitment due to fears of losing their independence and self-reliance. Overcoming this hurdle requires reshaping the relationship to meet his needs, even those he may not be aware of. Women must alter their perspective on what men truly desire in order to fulfill these needs and foster relationship growth.
What A Man Wants from A Woman
Men and women differ on several levels, including physicality, emotional expression, and communication. Women often find it easy to form friendships with other women due to their social openness, but this approach may not work with men. This is one of the reasons why men may distance themselves.
If your partner is hesitant to commit, it's time to change your approach. Commitment is a conscious decision and not limited to a select few individuals. Fear of commitment is not a valid excuse either. Even if someone has a tendency to avoid attachment, they can still make a different choice.
It's possible that your partner is reluctant to commit because he hasn't fully recognized your value or doesn't feel secure enough to show his vulnerabilities. In any case, something needs to change before he can commit.
The solution?
Treat your partner with care. Instead of expecting him to adapt his life to yours, try to understand his perspective and make adjustments accordingly. Women often believe that men don't need them or value their opinions, support, and admiration.
However, this couldn't be further from the truth. Men want to be treated in a way that uplifts their egos and makes them feel worthy. They appreciate praise and recognition for their positive actions. Above all, they want to be reminded that they are loved and appreciated as great individuals. In essence, men care about the same things as women. Despite the differences between the genders, we connect through shared human needs and meaningful eye contact (like soulmates do).
Therefore, if you genuinely want your partner to commit, you must transform your relationship into something he truly needs.
What A Man Wants from A Woman in A Relationship?
Understanding what men desire in a relationship can help you comprehend your partner and be mindful of his unspoken wishes and desires. This understanding can strengthen your bond and bring you closer together. It can also help minimize misunderstandings and reduce miscommunication.
So, what exactly do men want in a relationship? Let's find out: Contrary to media portrayals and online depictions, men are not enigmatic puzzles that need solving. To get your partner to commit, you simply need to convince him that this relationship is something he genuinely desires. To achieve this, you must provide him with what he wants in a relationship. Here are actionable steps you can take to evolve your relationship:
1. Show Him Respect
Respect can mean different things to men and women. While women often show respect through considerate actions, men have a different perspective. For men, respect is like oxygen—it's essential. Cleaning up, reheating dinner, or running errands may seem respectful to us, but it doesn't hit the mark for men.
It's important to understand what respect looks like to a man to avoid unintentionally suffocating your husband or boyfriend. Even if it means skipping those tasks, treating him with respect, as he sees it, is crucial. Otherwise, he may react defensively when you contradict him, criticize him, or question his competence. It's essential to demonstrate faith in his abilities, appreciate his thoughts, and make him feel valued.
2. Seek Honesty in a Relationship
Honesty ranks high on a man's list of priorities in a relationship. Men desire complete trust in their partners and expect the same in return. They cannot tolerate being kept in the dark about any matter. Regardless of how unpleasant the truth may be, men prefer to know it.
To foster a trusting relationship, both partners must prioritize open and straightforward communication. If one partner struggles with trust issues, it becomes their responsibility to address and manage these insecurities. Neglecting to do so could strain or even damage the relationship in the long run.
3. Be Appreciative
Men have a strong desire to please their partners. If they feel incapable of succeeding, it negatively affects their self-esteem. They need someone to please and make happy. Criticizing their efforts or rejecting their gestures can make them feel useless.
To counter this, focus on cultivating your own happiness. Engage in activities that bring a genuine smile to your face. Consider the possibility of freeing up time for leisurely pursuits by relinquishing some of the tasks you do for him. Remember, his happiness stems from knowing he has pleased you. When you are happy, he feels proud and content. It is why the saying "Happy wife, happy life" holds universal truth.
4. Offer Praise
Men have delicate egos, and offering praise can have a profound impact. Take the time to remind your partner of the qualities you appreciate about him. Reassure him and highlight his skills and attractive qualities. Compliment him whenever he does something kind for you.
These little words of encouragement will make him feel loved. As you praise his positive attributes, you will begin to notice and appreciate them even more.
5. Provide him with personal space.
It is important for individuals to have time alone to recharge, regroup, and reconnect with themselves. This is especially true for men, as they tend to prioritize independence over intimacy. By giving your partner sufficient space and allowing him time for himself, you can prevent him from feeling overwhelmed in the relationship.
Allow your man to have moments of solitude and encourage him to unwind when he returns home from work. Be mindful of not making excessive plans when he has free time. Your trust in him and the bond you share will be appreciated when you give him the opportunity to breathe.
6. Support his vulnerability.
From a young age, men are taught to avoid showing weakness. Crying, expressing fears, or sharing doubts are often considered signs of "weakness." As men mature, it takes time for them to open up emotionally.
As a partner, it is important to nurture your man when he allows himself to be vulnerable. When he cries in front of you for the first time, he needs reassurance that you will not be turned off or respond poorly. You must learn how to help him navigate negative emotions such as sadness or fear without pushing him away. Otherwise, the emotional divide will never be bridged.
7. Show physical affection.
While men appreciate sexual intimacy with their partners, they also require non-sexual physical affection. Simple gestures like caressing their hair, neck, or cheek can reaffirm the physical and emotional connection you share.
Touch is a representation of physical love and can arouse your partner while conveying your love and desire for their happiness. It serves as a reminder that you stand by their side and deeply care for them.
Download PDF to What A Man Wants From A Woman In A Relationship Desperately
8. Seduce him.
Naturally, your partner desires sexual intimacy. However, it is crucial to ensure he feels respected. Respect is the ultimate aphrodisiac for men, so if it is lacking, address that first. Passion requires a foundation of respect. Once respect is established, he will be more engaged in the bedroom.
He would prefer to be teased or experience visual stimulation that can lead to excitement. You, as his partner, provide visual stimulation, and your voice, scent, and touch are also stimulating. When you utilize these elements to subtly suggest your willingness and receptiveness, it is highly enticing and exhilarating.
This approach may be more intimidating for you compared to initiating more directly with words or actions. Wearing a revealing outfit carries the risk of potential rejection, which can be disheartening. However, the upside is that you are extending an invitation in the most feminine way possible – without pressure and with a lot of excitement. By being open but not demanding, you create emotional safety. This is what your partner truly desires.
Another benefit of this approach is that you will never feel more desirable than when your man responds to your implied suggestion with enthusiasm and energy. Just like with the other relationship techniques, when your partner's needs are met, he will show up as the man you fell in love with – the intelligent, devoted man who always strives to make you happy and turns you on.
9. Allow him some personal space.
Every individual needs time alone to recharge, regroup, and reconnect with themselves. This is particularly true for men, who tend to value independence over intimacy. By giving him sufficient space and time for himself, you can prevent him from feeling suffocated in the relationship. Give your man the freedom to have some alone time every now and then.
Allow him to unwind after work and be mindful of not overloading his schedule when he has free time. He will appreciate your trust in him and the bond you share when you give him room to breathe.
10. Support his vulnerability.
From a young age, society teaches men to avoid showing weakness. Crying, complaining, sharing fears, and expressing doubts are seen as signs of "weakness." This is why it takes time for men to open up emotionally.
As a partner, it is important to nurture him when he lets his guard down. When he sheds tears in front of you, he needs to be confident that you won't be turned off or react poorly. You must learn how to help him navigate negative emotions like sadness or fear without pushing him away. Otherwise, the emotional gap between you will never be bridged.
11. Show physical affection.
While men appreciate sexual intimacy with their partners, they also crave non-sexual affection. Simple gestures like caressing his hair, neck, or cheek can reaffirm your emotional and physical connection. Touch is a manifestation of physical love.
It arouses him while also conveying your love and desire for his happiness. It serves as a reminder that you are there for him and deeply care about him.
Related: Love and Relationship Compatibility
Dating and Relationship Tips and Advice
12. Reassure him of your long-term commitment.
Both men and women desire certainty in a relationship. If a man feels that his partner is genuinely invested in the long-term, he will be more inclined to commit. Apart from assuring him that you won't leave, there are other important aspects to consider.
Men feel more secure when they know you approve of their career choices and trust them enough to respect their privacy. They also appreciate signs that you are not interested in anyone else.
13. Let him know it's okay to make mistakes.
Inside every man, there is a little boy who may forget to put the toilet seat down or say the wrong thing in front of your friends. He may also have a curious mind and a short attention span. However, it is crucial to remember that you are his partner, not his mother.
It is not your responsibility to nag him when he makes a mistake. If he slips up and makes an error, have a calm conversation about it and reassure him that it's alright. This shows him that you support and accept him unconditionally, even when he occasionally falters. Once he knows you understand him, he will be motivated to improve himself for you.
Download PDF to What A Man Wants From A Woman In A Relationship Desperately
14. Incorporate a sense of playfulness.
Numerous women excel at organization and multitasking, which can be exhausting for men. It's effortless to become consumed by thoughts of your never-ending to-do list. Instead, why not embrace spontaneity and let loose together?
Men appreciate it when you relinquish control and fully enjoy the present moment with them. Don't hesitate to exhibit your sense of humor, as it demonstrates your comfort and relaxation in his presence. Remember, life is far too short to be overly serious about everything. Your partner will value sharing inside jokes and embarking on adventures with you.
15. Surprise him with romantic gestures.
Many individuals fail to recognize that men desire romance just as much as women. Men tend to express their love through actions rather than words, making it crucial to woo your man with sweet gestures that remind him of your love.
While he may not expect traditional romantic gestures like flowers or chocolates, your partner wouldn't mind receiving the occasional cute text or unexpected kiss on the cheek. Engaging in spontaneous acts of affection demonstrates your passion and generosity within the relationship.
Download PDF to What A Man Wants From A Woman In A Relationship Desperately
16. Take an interest in his hobbies.
Just as women appreciate their partners taking an interest in their hobbies, men feel the same way. You may not share all the same interests as him – he may love movies while you prefer reading, or he may enjoy jogging while you prefer surfing. It's easy to lose interest once you've decided you don't enjoy something, but it's important to remember that he still does.
Even if you don't plan on joining him every time he plays racquetball or goes to the movies, there's no harm in occasionally tagging along (and encouraging him to do the same with you).
By showing genuine interest in what brings him passion and joy in life, whether it's a hobby or pastime, he allows you into his personal world. Not only will you gain a deeper understanding of him, but he will also feel a profound connection as he shares this part of himself with you. And if he prefers to engage in his hobbies alone, that's perfectly alright. You can still show interest by asking questions, demonstrating that you are genuinely interested.
17. Embrace him for who he is.
We all long for acceptance, from our parents, friends, and especially our partners. Since many of us battle with insecurities that stem from our childhood, finding a partner who truly accepts us as we are is rare.
However, if you can overlook the small things, stand by his side through thick and thin, and refrain from passing judgment, he will feel like he's in the best relationship imaginable. This will allow him to be himself without fearing criticism.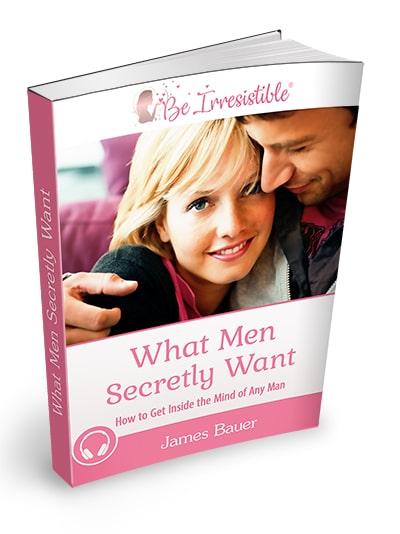 18. Uphold your promises.
Trust is an indispensable aspect of any relationship, for both men and women. At its core, men simply desire someone they can confide in. They seek reassurance that you have their back and won't let them down. When you make a commitment, such as paying the bills or picking up the dry cleaning, he wants the peace of mind that comes with knowing you'll follow through.
Losing faith in your partner is a dreadful feeling, but if you can display a high level of trust, it will significantly strengthen your relationship.
19. Support his aspirations.
Whether he has his sights set on running a marathon or aiming for a significant promotion at work, every man desires to have a partner who stands by his side, providing support as he pursues his goals. It's important to acknowledge that, just like women, men often grapple with confidence and self-esteem issues.
Your unwavering belief in him can serve as the driving force behind his ability to achieve his dreams. In relationships, both partners have their own ambitions and dreams for the future. The key is to encourage and uplift each other, working together to fulfill those aspirations. If you can be that source of encouragement for him, he will not only appreciate it, but also give his best to himself, you, and the relationship.
20. Be his ultimate companion.
When a man invests his whole self into a relationship, he yearns for something beyond mediocrity. Instead of simply playing the role of a girlfriend, strive to be his everything – his partner, his friend, his confidant, the person he can rely on in any situation.
Become the person who ignites his passion for life and the possibilities that lie ahead. Foster personal growth and development, both individually and within the relationship. By truly embodying the concept of partnership, you can surpass the expectations of a typical relationship and create a strong bond together.
Download PDF to What A Man Wants From A Woman In A Relationship Desperately
21. Prioritize effective communication and willingness to compromise.
Now, this doesn't mean that conflicts will never arise in your relationship – they are inevitable. However, you can ensure that arguments remain calm and are handled maturely. A useful strategy to try is to view the "problem" or the cause of the argument as separate from both of you.
Once you detach yourselves from the issue, finding a solution becomes easier because you are collaborating instead of working against each other. If he sees your genuine effort to communicate even during challenging times, and your willingness to compromise instead of engaging in blame games or manipulation, he will develop even deeper respect for you.
22. Make honesty your utmost priority.
We have emphasized the importance of trust, and one of the most effective ways to build trust in a relationship is through unwavering honesty. Even seemingly harmless white lies can accumulate over time, eroding your partner's trust in you.
Men need to feel confident that they can trust your words and believe that you won't keep anything hidden from them. They crave transparency in a partner. Without it, he will always question whether he can truly open up to you and entrust you with his vulnerabilities.
23. Maintain your independence.
It's no secret that attraction can fade over time, particularly in long-term relationships. However, maintaining a sense of independence is crucial for a healthy partnership.
How can you achieve this? To begin, having your own independence and cultivating a fulfilling life for yourself will make you more intriguing to your partner than if you were constantly by his side.
He will eagerly anticipate hearing about your day, and it will provide him with an opportunity to miss you. After all, men do not desire a clingy, dependent relationship where they have no time for themselves. And most importantly, a confident, independent woman is incredibly alluring, which not only enhances the relationship but also adds a spark to your sex life.
24. Faithfulness is essential in relationships.
While a small amount of jealousy can be natural and indicate a desire to keep your partner, too much can cause men to lose trust quickly. Avoid playing games or intentionally making your partner jealous, as this can often backfire.
Instead, focus on open communication to address any unmet needs and work together to find a solution. Ultimately, men want to feel like they are the only one for you, so exhibiting loyalty is important.
Download PDF to What A Man Wants From A Woman In A Relationship Desperately
25. Prioritize your partner to make him feel valued.
No one wants to feel like an option, especially in a relationship. Men crave being the top priority in their partner's life and need to see that they are valued and prioritized. Simple acts of consideration can achieve this.
For instance, when your partner has had a tough day, show empathy by putting aside your own interests and comforting him. Similarly, make an effort to celebrate special occasions like birthdays and anniversaries to demonstrate your love. These small gestures remind him of his importance, and in turn, he will prioritize you and the relationship.
26. Speak up when your partner is wrong.
It may be challenging for some individuals to confront their partners, but it is important for men to know that their partners can assert themselves, even if it means challenging their egos. Contrary to popular belief, men desire partners they can respect, rather than submissive individuals who never question or express disagreement.
They want someone who can stand up for themselves, yet still communicate and work through issues maturely. They certainly don't want their partner to suppress their feelings until they explode, potentially causing irreparable harm to the relationship. By keeping your partner grounded during challenging times, you will earn his respect and strengthen your relationship.
27. Express gratitude to your partner.
Even if your husband or boyfriend is currently disappointing you, showing appreciation can have a transformative effect on your relationship. Acknowledge his efforts in maintaining discipline during dinner with the children, even if it seems routine. Appreciate the tasks he handles, such as taking care of the trash or fixing household issues.
Let him know how pleased you are when he takes on responsibilities like cooking, doing laundry, changing diapers, fixing technical problems, or handling household chores. Even if he has been performing these tasks for years without acknowledgment, expressing gratitude is crucial. Men want to feel appreciated, regardless of their assigned roles or the frequency of their contributions.
Download PDF to What A Man Wants From A Woman In A Relationship Desperately